Chili is an ideal winter comfort food that has many variations and fiercely devoted fans. Most recipes use the basic ingredients of meat, beans, onions, and chili peppers. This recipe is a take on Cincinnati Chili, which is often served over a bed of spaghetti. It has a sweeter flavor that comes from cinnamon and Worcestershire sauce, but it can also be eaten without pasta. Either way, it's the perfect hot meal for a cool night in your RV.
This recipe is part of La Mesa RV's YouTube cooking series: Get Cookin' RV Style. Each road recipe in this series has a short cooking video hosted by an engaging guest chef, who gives you a deeper look at how to make the recipe. Be sure to subscribe to both our Experience Life blog and our YouTube channel for notifications when each new recipe is released.
Disclaimer: La Mesa RV has no connection to any of the companies, brands or products listed in this recipe, blog post and video, and does not receive any financial consideration from the companies, brands, and products mentioned. No endorsement of La Mesa RV by the companies, brands and products mentioned should be assumed.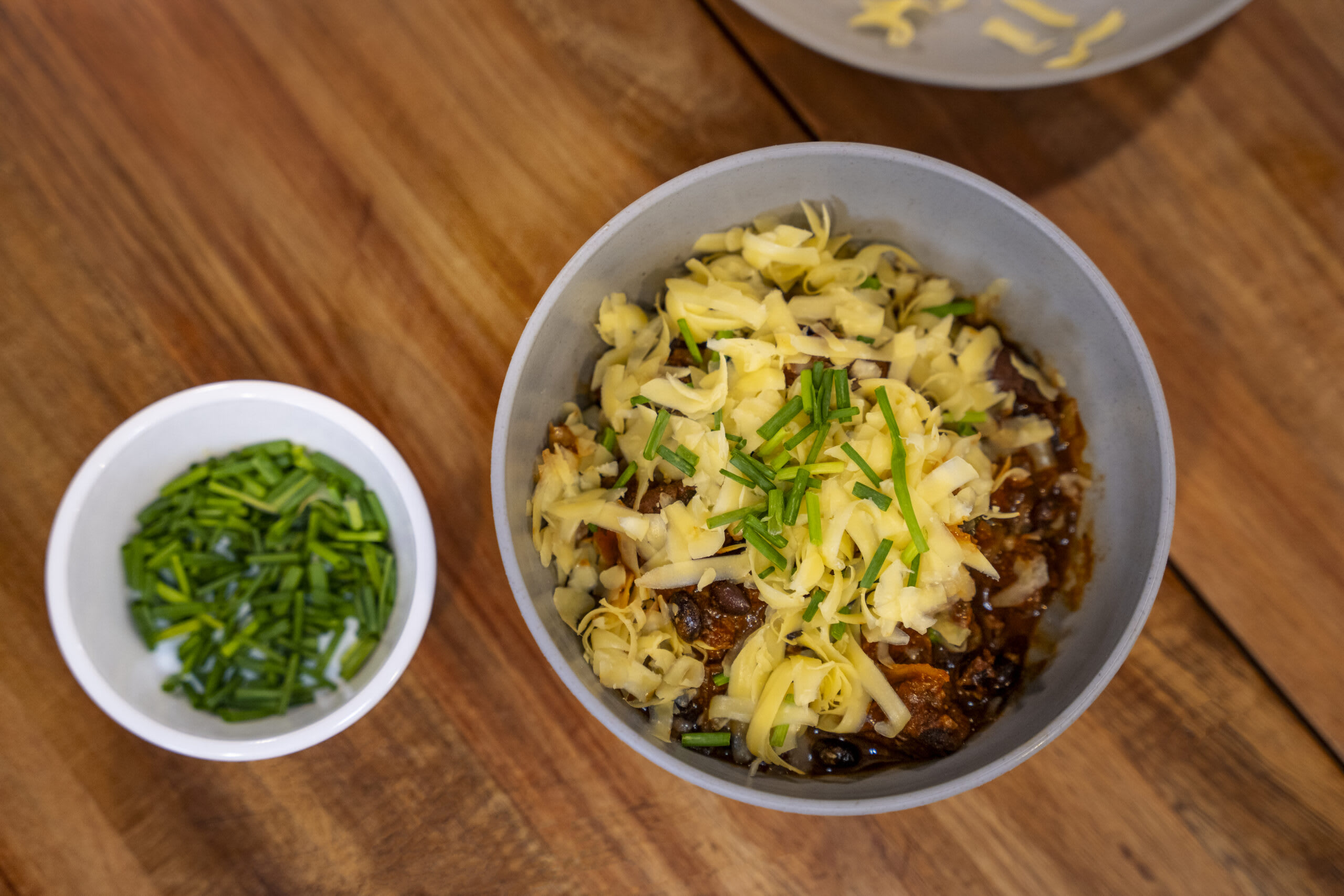 RECIPE: CINNAMON-LACED BEEF CHILI
Based on the recipe from CookingLight
Ingredients for One Small Batch (4 – 6 servings):
– 2 cups       Yellow Onion, chopped (1 medium size, about 10 ounces)
– 1 ½ cups    Poblano Chile Peppers – rinsed, dried, seeded and chopped (about 10 ounces)
– 8 cloves     Garlic, chopped (about 1 small bulb)
– 2 Tbsp.      Fresh Oregano, chopped
– 2 Tbsp.      Extra Virgin Olive Oil or Avocado Oil
– 1 ½ lbs      Beef Chuck Roast, cubed  (or pre-cut "Beef for Stew")
– 2 Tbsp.      Tomato Paste
– 1 ½ tsp.     Ground Cumin Seed
– 2 ½ cups   Beef Bone Broth or Beef Stock  (lower sodium preferred)
– 2 Tbsp.      Paprika
– 2 Tbsp.      Red Wine Vinegar
– 1 ½ Tbsp.  Brown Sugar
– 1 Tbsp.      Worcestershire Sauce
– 1 tsp.         Salt  (Kosher or Sea Salt preferred)
– 3                Cinnamon Sticks
– 1 can         Black Beans – No Salt Added, drained and rinsed
 Optional Add-Ins:
– Fresh Jalapeño pepper, chopped (add with poblano peppers)
– Sriracha Sauce, to taste (add with Worcestershire sauce)
Garnish / Topping:
– 2 oz.     Sharp Cheddar Cheese, shredded
– 1 Tbsp.  Fresh Chives, sliced
Note on Quantity:  This recipe can easily be doubled and cooked in the same size Dutch oven pan.
Instructions (step-by-step):
Chop the yellow onion. Add it to a medium-sized bowl.
Rinse and dry the poblano chile pepper(s). Seed and chop them. Then add them to the onions.
Rinse and dry the jalapeño pepper, if you're adding this optional ingredient. Then seed and chop it. Add it to the onion and poblano mixture.
Chop the garlic cloves, then add them to the onion and pepper mixture.
Rinse and dry the oregano. Pull the leaves off the stems, then chop the leaves. Set aside in a small dish.
In a Dutch oven pan, heat the oil on medium-high heat.
Add the beef and cook it for 8 minutes, or until browned on all sides. Turn it occasionally.
With a slotted spoon, remove the beef from the pan and place it on a plate to save it for adding back later.
In the hot pan, containing the remaining beef juices and oil, add the onion, pepper and garlic mixture.
Cook for 5-6 minutes over medium-high heat, stirring frequently.
Add the oregano, tomato paste, and ground cumin seed.
Cook for 2 minutes, stirring constantly.
Add the bone broth or stock.
Add the paprika, red wine vinegar, brown sugar, Worcestershire sauce, salt, and cinnamon sticks.
Stir everything together well, and bring the pot to a boil on high heat.
Reduce the heat to medium-low and add the reserved, browned beef.
Cover and cook on medium-low heat for 45 minutes, or until beef is tender. Stir occasionally.
While the chili is cooking, drain and rinse black beans and set aside in a bowl.
When the chili is finished cooking, remove the cinnamon sticks and discard them. Stir in the black beans.
Garnish each serving with a sprinkle of cheese and chives. If desired, you can serve this Cincinnati-stye chili over spaghetti or other noodles. Refer to the pasta/noodle package for cooking instructions.
Start-to-Finish Time:  2 to 2.5 hours
NUTRITION FACTS:
Cooking Tools Needed:     
Cutting board(s)
Medium bowl
Small bowls / dishes
Kitchen knives
Paper towels
Measuring cup set
Measuring spoon set
Liquid measuring cup set
Dutch oven pan (at least 4-5 quart size) with cover
Slotted cooking/mixing spoon
Cooking/Mixing spoon
Spatula
Can opener
Hand strainer
Hand cheese grater/microplane
Looking for more Get Cookin' recipe videos to elevate what you eat while RVing? Click here for our YouTube playlist.