How do you like your pancakes served? Fluffy and fruity or slathered in chocolate? Nutella-stuffed or dripping in syrup? Whatever your sweet tooth calls for, this breakfast of champions is always certain to bring smiles to the table. We're celebrating National Pancake Day with some of the most creatively mouthwatering pancake recipes we've come across for you to enjoy on your RV travels. 
Get adventurous with how you prep your pancakes in the galley or around the campfire and keep experimenting with your favorite tastes all year round. Whether served for the kids or your campground neighbors or shared with someone you love on a romantic morning, this delicious breakfast dish will never go out of season.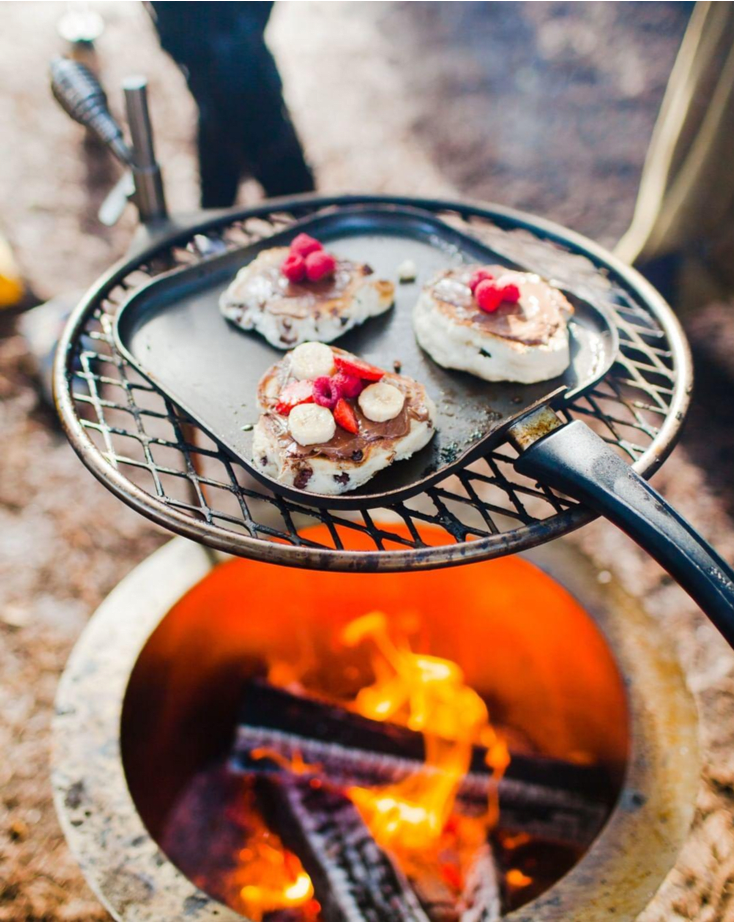 Photo Credit: @averyblisss
Campground Pancakes
For a Cozy Morning Around the Campfire
Share a sweet morning beside a crackling fire with this simply classic campground recipe. Your choice of toppings is totally limitless, making this recipe an absolute go-to for RVers.
Ingredients: 
1 cup all-purpose flour

2 tbsp white sugar

2 tsp baking powder

1 egg

1 cup milk

2 tbsp vegetable oil

Butter, agave, honey, fruit toppings (optional)
Recipe:
Start your fire and burn for 30 minutes to get hot coals cooking.

In a large mixing bowl, place flour, sugar, baking powder, and salt. Mix well.

Make a hole in the center of the ingredients and pour in the milk, egg, and oil. Mix until completely smooth.

Lightly oil your cast iron skillet. Place on fire (directly on coals or on grill grate) and let heat to about a medium heat level.

Pour batter into the skillet. Use about 1/4 cup of batter for each pancake.

Cook until golden brown on each side.

Repeat for each pancake.

Slather with butter, syrup, agave, or any other topping you desire, and enjoy!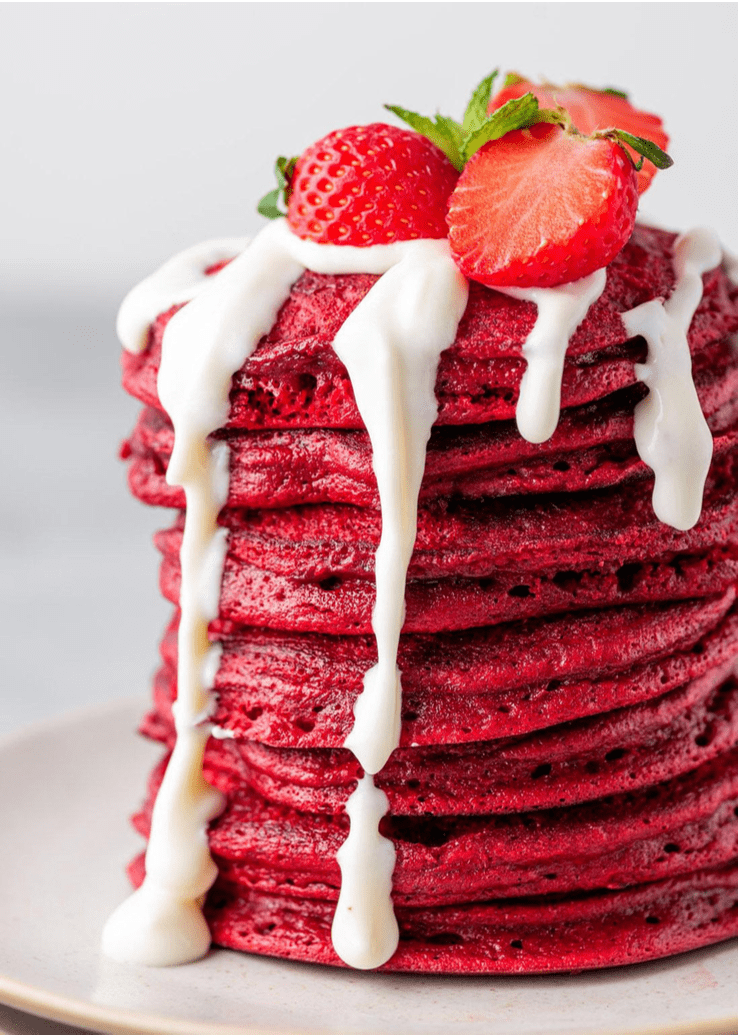 Photo and Recipe Credit: GimmeDelicious
Red Velvet Pancakes
Made With a Whole Lot of Love
This recipe will add a colorful pop to your morning. Red velvet is perfect for kicking off a day of romance with your loved one or treating the kids to a totally new taste.
Pancake Ingredients:
2 cups red velvet cake mix

½ cup all-purpose flour

1 ¼ cup milk or water

1 egg

1 tbsp butter or oil (for greasing)
Syrup Ingredients:
4 oz. cream cheese (room temperature)

½ cup powdered sugar

2 tbsp milk

1 tsp vanilla
Recipe:
Preheat your griddle to medium heat.

Whisk egg and milk in a medium bowl until well combined. Add red velvet flour and all-purpose flour at the same time. Beat (by hand) for 2 to 2 minutes until you have a fluffy batter.

Layer pan with butter or oil and add ¼ cup of batter. Spread with a spoon if the batter is too thick.

Cook for about a minute until bubbles appear on the pancake and carefully flip and cook for approximately another minute. 
Cream Cheese Syrup:
Beat cream cheese, powdered sugar, milk, and vanilla for about 1 to 2 minutes (by hand).

Drizzle over pancakes and add fresh fruit for a decadent touch (sliced bananas, strawberries or blueberries are an excellent choice)!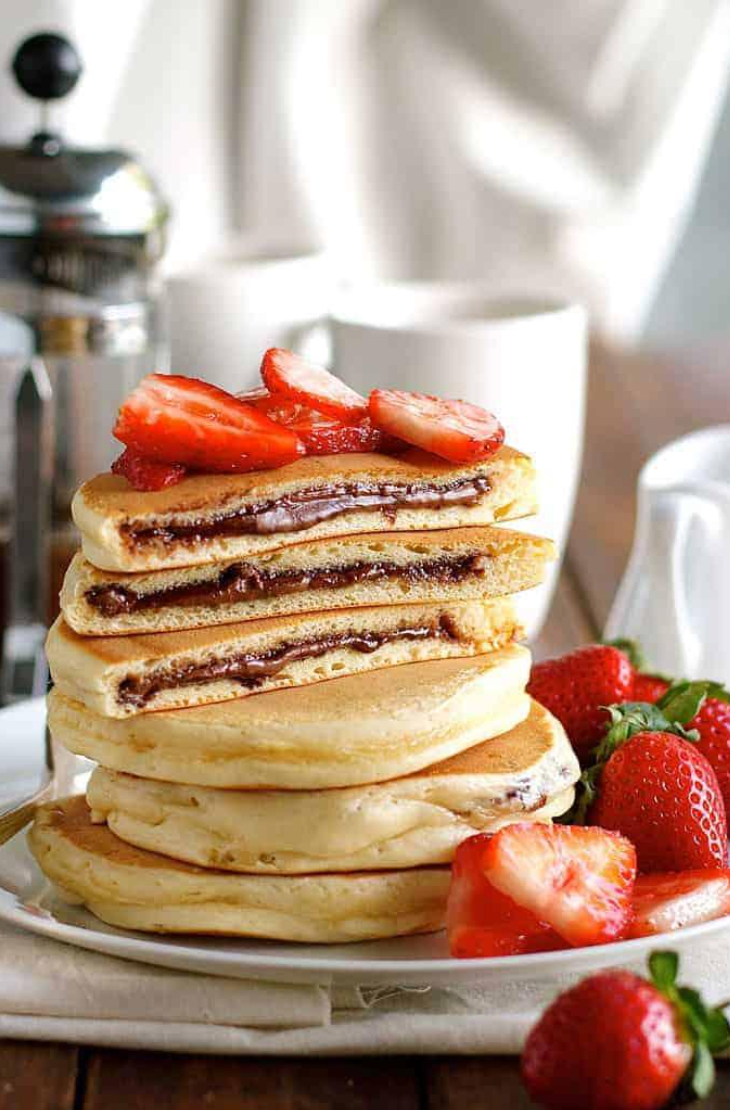 Photo and Recipe Credit: RecipeTinEats
Nutella Stuffed Pancakes
The Family Will Go Nuts for This One
If you're not one for going over the top with toppings like maple syrup, chocolate, or honey, but still want to try something new, Nutella is the way to go.
Ingredients:
10-14 tbsp Nutella

1 ½ cup plain flour

3 tsp baking powder

4 tbsp sugar

Pinch of salt

1 egg

1 cup + 2 tbsp milk

1 tsp vanilla essence (optional)

1 tsp butter (separated 2 x ½ tsp) 

Sliced strawberries or bananas and powdered sugar (optional)
Nutella Prep:
Line a baking tray with parchment paper.

Dollop 1 ½ to 2 tbsp (6 cm) of Nutella onto the baking tray and spread into a disk about 2 1/2 " in diameter and ⅕" ( ½ cm) thick. Repeat to make 7 discs.

Place your tray in the freezer until firm (for about 1 ½ to 2 hours).

Peel off the parchment paper and return the disks into the freezer on a plate until required.
Recipe:
Whisk flour, baking powder, sugar, and salt to combine.

Create a well in the center of your bowl and place your egg, milk, and vanilla essence in the well. Whisk until well mixed and lump-free (Stop when it's smooth, as you don't want to over mix).

Melt ½ tsp of butter in a non-stick pan over medium heat. Once melted, wipe most of the butter off with a paper towel.

Take 3 frozen Nutella disks right before you start cooking (don't take them out too soon, because they melt quickly).

Dollop ¼ cup of batter into the pan and quickly place a Nutella disc in the middle of the batter, then top with some additional batter. Use the edge of the cup to evenly spread the batter over the Nutella. Again, working quickly is key!

As bubbles start to appear around the edges (around 2 minutes in) carefully lift the edge to ensure the bottom is golden. Then flip and cook the other side until it's golden too.

Repeat with the remaining batter, adding and wiping additional butter after your third or fourth pancake. 

Serve warm with fresh sliced strawberries or bananas and add some powdered sugar if you want to go all out!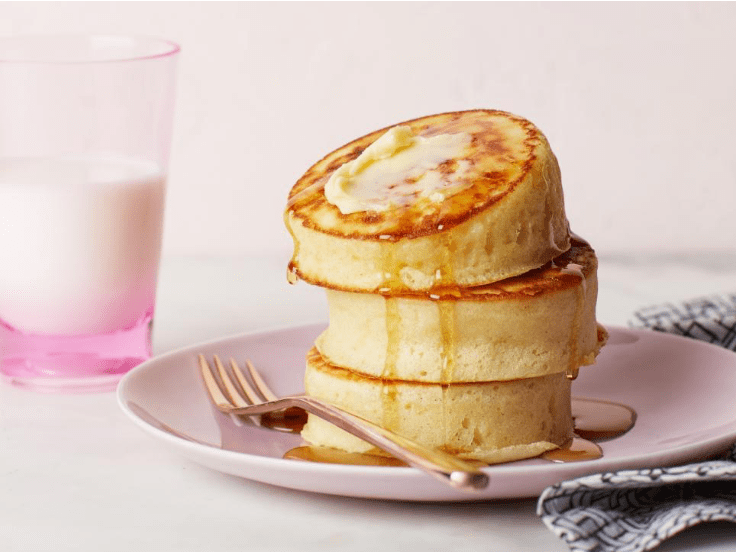 Photo Credit: Tara Donne, Recipe Credit: Food Network Kitchen
Japanese Souffle Pancakes
For Those Who Love the Fluff
The key ingredient of baking powder creates airy, fluffy goodness in this Japanese signature recipe. If you're looking to mix things up for breakfast, these angelic treats will have the whole family asking for seconds.
Ingredients:
1 ½ cup all-purpose flour

3 tbsp confectioner's sugar

2 tsp baking powder

½ tsp kosher salt

1 ¼ cup milk

4 tbsp unsalted butter (melted and cooled, plus more for serving)

½ tsp pure vanilla extract

1 egg yolk

3 egg whites

¼ teaspoon cream of tartar

Non-stick cooking spray

Maple syrup or honey for serving
Recipe:
Which flower, confectioners' sugar, baking powder, and salt in a large bowl.

Whisk milk, melted butter, vanilla, and egg yolk in a separate bowl until well mixed.

In a second large bowl, beat egg whites and cream of tartar with an electric mixer on medium-high speed until stiff peaks form (for approximately 2 minutes).

Stir your milk mixture into your flour mixture until combined (lumps are okay).

Stir ⅓ of your beaten egg whites into the flour-milk mixture, then gently fold in the remaining egg whites until just combined (be careful not to over-mix).

Lightly spray the inside of four 3" by 2 ½ high ring molds with non-stick cooking spray

Coat a large non-stick skillet with non-stick cooking spray and heat at medium-low.

Place the prepared ring molds in the center of the skillet and fill each with ½ cup of batter (about halfway filled). Cover your skillet with a lid and cook until the batter rises to the top of each mold and is golden on the bottom (about 5 minutes).

Take the bottom of the pancakes with a spatula, cooking the sides of the ring molds with tongs, and carefully flip. Cover and cook for another 5 minutes until the other side is golden.

Transfer to a plate and remove the molds. Serve with butter and maple syrup (or honey). Powdered sugar and freshly sliced fruits add a delicious touch. Chow down before the pancakes deflate!

Lightly coat the skillet and molds with non-stick cooking spray and repeat with your remaining batter.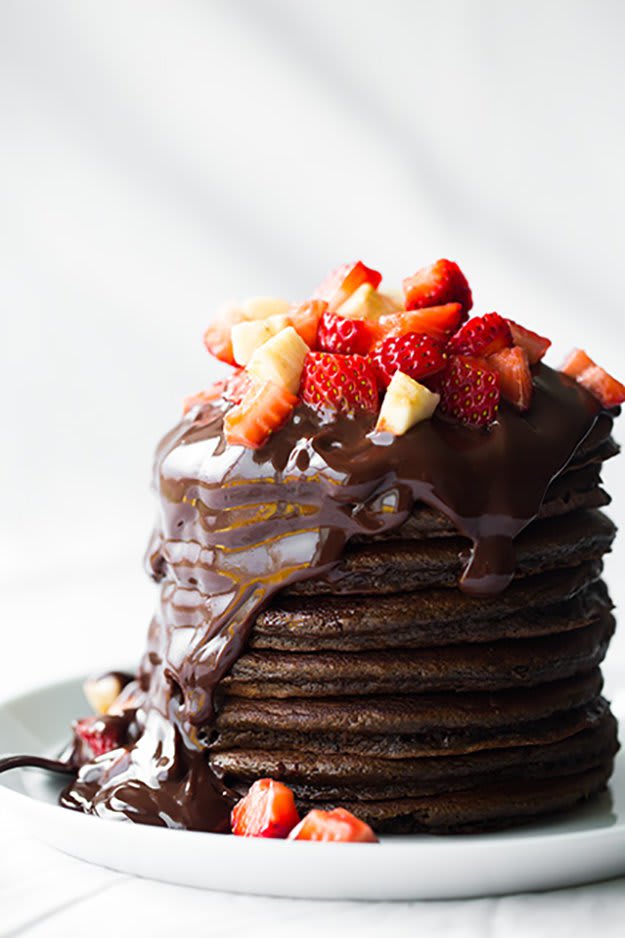 Photo and Recipe Credit: CookingClassy
Chocolate Lover's Pancakes
Need We Say More?
Treat yourself to the finer tastes of breakfast with an all-chocolate recipe. Paired well with fresh strawberries and bananas, these pancakes are guaranteed to satisfy.
Ingredients:
⅓ cup granulated sugar

⅓ cup cocoa powder

⅓ cup light brown sugar

1 ½ cup flour

1 tsp baking soda

½ tsp salt

½ cup whole milk

½ cup low-fat buttermilk

2 eggs

3 ½ tbsp vegetable oil

1 ⅓ tsp vanilla extract

butter for griddle

fresh strawberry and banana slices
Pancake Recipe:
Preheat your griddle to 350 degrees

Whisk together cocoa and granulated sugar until evenly combined in a mixing bowl. Stir in light-brown sugar, following with flour, baking soda, and salt. Mix well and set aside.

In another bowl, whisk together buttermilk, eggs, milk, vanilla, and vegetable oil. 

Pour the wet mixture into the dry mixture and whisk to blend. Lumps are fine, so don't over mix!

Butter griddle as needed and pour the batter in according to desired pancake size (¼ cup is a good starting point). Cook until bubbles appear on the pancake surface (approximately 1 minute).

Carefully flip pancakes and cook until it's ready to serve.
Chocolate Sauce:
Place chocolate chips into a heat-proof bowl. In a small saucepan, bring heavy cream to a gentle boil over medium heat.

Pour hot cream over the chocolate chips and stir until the chocolate is melted. Add more hot cream for a thinner consistency if desired.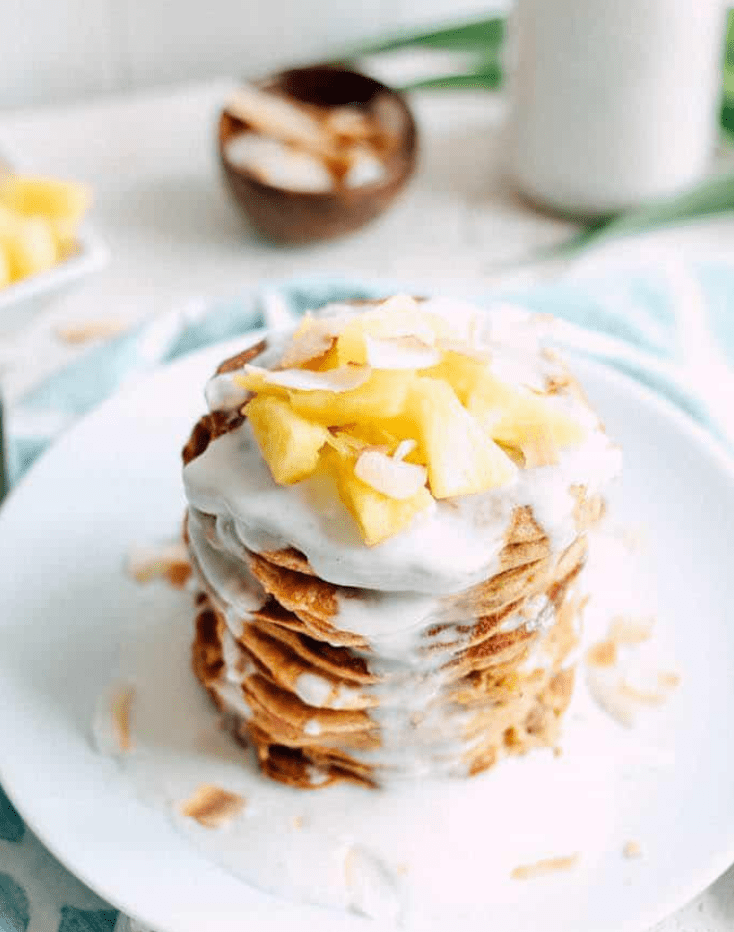 Photo and Recipe Credit: DestinationDelish
Piña Colada Pancakes
For the Year-Round Tropical Spirit
Who says we need to wait until the summertime to enjoy these sweet pineapple pancakes? If this is your favorite fruit or you're just feeling tropical try these out!
Ingredients:
1 can (14.5 ounces) coconut milk

3 tablespoons maple syrup

½ cup coconut flour

⅛ teaspoon salt

2 tablespoons coconut sugar

1 teaspoon baking powder

⅓ cup nut butter

4 eggs

¼ cup finely chopped pineapple

¼ cup coconut water (or regular water)

2 cups chopped pineapple

½ cup toasted coconut flakes
Recipe:
 Refrigerate your coconut milk overnight. In the morning, open the can and scoop out the white coconut cream to add into a bowl with your maple syrup and whisk. Add the coconut water, 1 tbsp at a time, until you reach a smooth and slightly runny consistency.

In a bowl, combine your coconut flour, salt, sugar, and baking powder. In another bowl combine your nut butter, eggs, pineapple, and coconut water.

Add your dry ingredients to your wet ingredients and stir to mix.

Pour ¼ cup of batter into mounds on a nonstick skillet or griddle set on medium-low heat. Spread the batter into circles with the back of a spoon, then cook each pancake for about 2 minutes on each side.

Top the pancakes with coconut syrup, fresh pineapple chunks and toasted coconut flakes to taste and enjoy!
Are you geared up for your next RV getaway? To help you make sure you're fully prepared for any adventure ahead, check out our complete guide on The Accessories Every RVer Needs. You never know if there's something that you haven't thought of that may make the difference for smoother travels and happier trails!